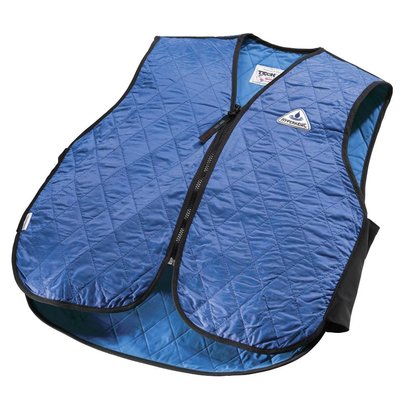 HyperKewl
Evaporative Cooling vest - Sport & Wok
PROSHYP6529-L
Delivery time:

Delivery within 99 hours
Evaporative cooling vests of Hyperkewl are easy in use! Just soak in water and evaporate for 5-10 hours. Fewer loss of sweat, better focus on activity, higher comfort, lower body temperature, lower heart rate, more energy. ...
More information
Product description
Brand:

HyperKewl

Article number:

PROSHYP6529-L

Delivery time:

Delivery within 99 hours
This cooling vest is very easy in use! See below for use and washing instructions. 
Studies have emphasized following
advantages
of these cool vests:
✓ fewer loss of sweat
✓ better focus on activity
✓ higher comfort
✓ lower body temperature
✓ lower heart rate
✓ more energy
It is only logical that the better sports teams and top employers choose for Hyperkewl cool vests!
Features:

- Cooling effect takes 5-10 hours
- The V-neck gives you great flexibility
- extremely lightweight and durable
- the outer Oxford nylon material and the inside Hyperkewl super-absorbing coolong material results in the highest comfort
- water will not touch your sports wear or workwear thanks to the water-resistent fiber and the soft black poly coton
- Colours: Blue, black, Hi-Vizibility Lime, silver and khaki
- Sizes: XS until 3XL
- Manufacturer code 6529
Use of cool vest:
Simply soak during 1-3 minutes in water, gently squeeze out the excess water and the temperature regulation takes effect immediately. This for 5-10 hours. To maximize the cooling effect, please do not wear a T-shirt underneath or only a dedicated moist-regulating T-shirt.
Hyperkewl Evaporative cool vests have been designed to perform very well when it is hot and with low until moderate humidity. When very humid, then the evaporation is faster and the usage is shorter and less effective. If very humid or no possibility to evaporate (eg in a flame retardant, chemical tight or firefighter uniform) we recommend to use Phase Change Material cool vests.
Washing instructions:
wash in water with a mild detergent.